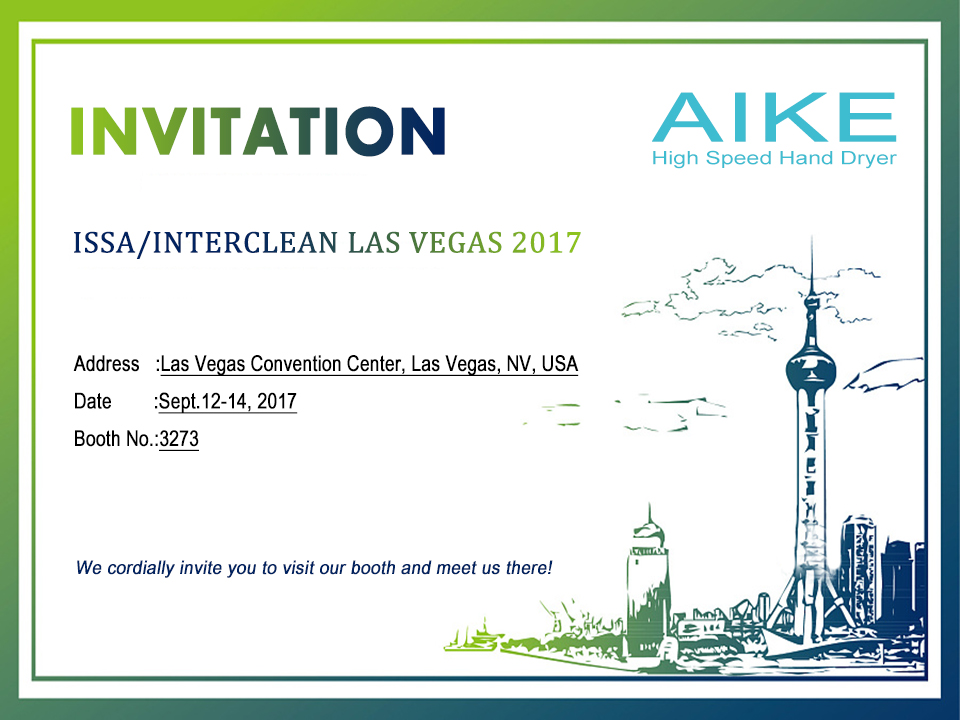 Zhejiang AIKE Appliance Co., Ltd, will attend the ISSA/INTERCLEAN Show Las Vegas 2017. Our popular Hand Dryer Series including Dual Jet Hand Dryers, Stainless Steel Hand Dryers, elegant ABS Hand Dryers and latest achievement colorful SS MINI Hand Dryers will be displayed at site.
Introduction of Our Exhibition
Although it is not the first time that AIKE attend the ISSA/INTERCLEAN, I would like to introduce the exhibition again. ISSA/INTERCLEAN is the world's largest trade show for the cleaning and maintenance industry, and AIKE hand dryer will be exhibited on Booth No.3273 in Las Vegas Convention Center, Las Vegas, NV, USA. in Sept.12-14, 2017.
Displayed Products
AIKE will display hand dryers including:
v Dual Jet Series: AK2006H, AK2030, AK2070
Features: HEPA Filter, Brushless Motor, Intelligent LED display, Double Jets to dry both sides of hand
v Stainless Steel Series: AK2901, AK2903
Features: 304 Stainless Steel shell, built-in HEPA Filter, Lower Noise
v ABS elegant series: AK2630, AK2630T, AK2631, AK2632
Features: ABS shell, High-Speed Wind, Adjustable Sensing Distance
v MINI Colorful SS Series: AK2805, AK2806, AK2807
Features: Colorful Stainless Steel Shell, Compact Size, Strong Airflow and Low Noise, Dynamic Display of power indicator
v Automatic Soap Dispenser :AK1205
Features: Automatic infrared sensor, Adjustable Sensor Distance, 304 Stainless Steel
Hot sales products such as dual jet hand dryers, 304 stainless steel hand dryer, ABS hand dryer, HEPA fliter hand dryer, UV light hand dryer will be included. AIKE hand dryer is all electric automatic sensor hand dryer including infrared sensor hand dryer and diffuse reflection hand dryer.Our independent R&D colorful stainless steel mini hand dryers deserve your special attentions. So, we think you can find satisfied hand dryers here if you visit us on the exhibition.
Background
AIKE, which was founded in 1994, with 23 years experience of high-speed motor and High Speed Hand Dryers, now has a factory area of 36,000m² and a new factory located at Hangzhou Xiasha Economic Development Zone. AIKE has more than 150 skilled workers and 15 senior product engineers and with the production capacity of more than 150,000pcs hand dryers per year. Our R&D team work at designing and delivering a faster, more effective and healthy hand dryer while reducing operational costs.
As an professional hand dryer manufacturer, AIKE focus on manufacturer High Speed Hand Dryers, and its products are widely used in the public washrooms in Airport, Hotels, Chain Restaurants, Olympic Stadiums, Hospitals, Supermarkets or Shopping Mall, Office buildings, Schools, exported to more than 110 countries and regions, mainly to UK, France, Germany, Spain, Russia, Israel, Southeast Asia, India, USA, Canada, Brazil, and so on.
Welcome
AIKE hope to see you on ISSA/INTERCLEAN Show Las Vegas 2017.We welcome OEM&ODM hand dryer ideas.You will find a pleasant surprise there!